It is close to the downtown area of ​​Niigata City『Furumachi』and starts from 2,300 yen per night. We also offer consecutive nights and a long-term stay at a special price. It is a guest house where you can feel nostalgic and relaxed.
The most reasonable hostel in Niigata!
Guesthouse AngoSo
Facility
You can use kitchenware, seasonings, washing machine and detergent for free.
Business day
Open 24/7
check-
in
6:00-24:00
We will also correspond other than the above time,so please tell us the approximate arrival time in advance. You can use public transportation with peace of mind.However, Depending on the situation of the day, you may not be able to use the bed before 14:00. In that case,please take a rest in the lobby.
There is no curfew after check-in.
check-
out
Please get out of bed by 12:00.
After that, you can stay here until 22:00.
Luggage storage service.
We will keep your luggage on the day of check-in and check-out.
Meal
We don't have any
Please use the kitchen freely.
Bicycle rental
100 yen per day(We have two. First come, first served)
Wi-fi
Free
Shower room and toilet
★1shower room
Available for 24 hours.
The bathtub is not available.
Please feel free to use soap, shampoo, and towels.
★3toilets
Toilet with shower for men and women
1 Japanese style toilet
Air-conditioning and heating
Lobby and guest rooms are fully equipped.
There is no air conditioner and heater in the kitchen, corridors, etc.
Smoking
Please smoke in the designated area. No smoking in guest rooms and common areas
Other
free servise
Hair dryer (Do not use after 22:00)

Clothes iron
Parking Lot
Not in the hostel, so please park your car at the nearby paid parking lot.
The same applies to motorcycles.
You can park your bicycle outside by your own management. We cannot take responsibility for theft or damage.
Location
2023-5,Yuki-cho,Chuo-ku,Niigata city,Niigata
951-8058
Rooms
※It cannot choose a bed type
Male dormitory room
Single bed or bunk bed
Female dormitory room
Bunk bed or single bed
Mixed dormitory room
Bunk bed or single bed
Single room
Private room for 1 guest
Twin room
Bunk bed type or single bed type.
It's the best for a couple
or friends.
Single-use is also welcome!

Basic charge
standard plan
(1night)
★Dormitory
 2300yen〜2800yen(1person)

★Single room
2800yen〜3300yen(1person)
 
★Twin room
3000yen〜3500yen
(Single use rate for single bed type)

4600yen〜5600yen(2people)
Consecutive nights plan
for
7 nights to 14 nights
★Dormitory
 12600yen〜(1person)

★Single room
 15400yen〜(1person)

★Twin room
 16800yen〜
(Single use rate for single bed type)

 25200yen〜(2people)
Long-term stay plan
for
30nights or more
★Dormitory 
33000yen〜(1person)

★Single room
39000yen〜(1person)

★Twin room
 45000yen〜
(Single use rate for single bed type)

66000yen〜(2people)
The above is the basic charge. Other than that, we set special rates for Consecutive holidays and busy days. Please check the online booking screen for details.
1100yen per day for 30nights or more?! Get the long-stay plan on the official website!
Requests for other dates are also accepted by phone and form.
Payment
Please pay by cash or credit card upon arrival

Cancellation policy
For cancellation, the following fees will be charged.

・4 days(or more)before arrival
 date→Free
・3 days before arrival date→80%
・2 days before arrival date→50%
・The day before arrival date and on the
 day or No-show→100%
 It will be charged by bank transfer.
:Notice
Please tell us your approximate arrival time.

Manage your luggage on your own. If you want to use a locker, ask us.
Please be sure to return your room and locker keys at checkout.

Please keep quiet at night so as not to inconvenience neighboring residents and other guests.
Shower room is available 24 hours, but do not use a hair dryer after 22:00.

Children are welcome, but if a child uses a bed alone, it is the same price as an adult.

No pets allowed

It is difficult to arrange a taxi in the early morning, so please let us know as soon as possible if you plan to use it.

Please bring your toothbrush and nightwear
☆Special campaign☆
2000 yen every day until July 14th!(Excluding single use in twin rooms)
⬇︎BOOK NOW⬇︎
Please note that you will not receive a confirmation email if you enter the wrong email address
You will receive a confirmation email with your booking number. Keep it as it is necessary for cancellation.
If you want to cancel, tap the link at the bottom of the confirmation email. and please input your reservation number and email address.
※Please note that if you make a reservation by phone, we may send an SMS to your phone number for confirmation.
:Access
25 minutes on foot from Niigata Station

If you take a bus from Niigata station,Please leave the station at the Bandai exit,and get on the bus from the bus terminal line 7 (You can take any) and get off at the 3rd bus stop "Ishizue-cho"
5 minutes on foot from the bus stop "Ishizue-cho"to the hostel.

There is a direct bus from Niigata Airport to Niigata Station South Exit.

15 minutes on foot from "Toki Messe"
16 minutes on foot from "Piar Bandai"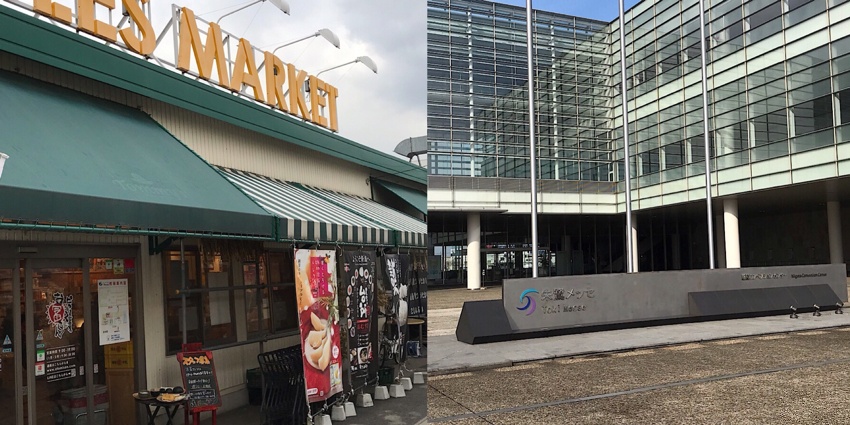 Feel free to ask other questions.